On Bonaire the name of the game is shore diving, and unlimited shore diving 24/7 is usually included in whatever package you buy. At a surcharge you may, of course, join a boat on either the west coast (expensive) or the east coast (even more expensive).

The Inaccessible East Cost
The east coast is open to the prevailing winds and the swells from the Atlantic Ocean. And as the coast line is full of razor-sharp rocks and lots of current the only ones diving here do it from a boat.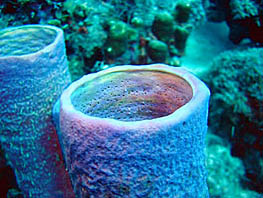 Enjoy the West
On the west coast the accessibility ranges from extremely easy to a bit difficult (access can be hampered by sun rock, i.e. a composite of salt, coral and sun that grows hard as… rock – lots of slippery and treacherous crevices, and sprained ankles are not uncommon among divers here).

There are more than 80 named dive sites marked by small, yellow stones. Find a yellow stone, park your car, suit up and swim out perpendicular to the shore line, enjoy, and swim back again. Couldn't be easier.

Parrots, Tangs and Wrasses
Once we got our heads below the surface we immediately noticed the many different parrot fishes – audibly nippling away on algae on hard corals and rock. Their colours ranged from very vivid patterns to almost bleached in appearance.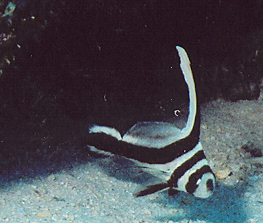 The Blue tang surgeonfish soon became another faithful companion together with the small Creole wrasse. The Blue tang was with us on most dives and was particularly entertaining when a large school engaged in a feeding frenzy.

The Creole wrasse we mostly saw on the reef top heading South before noon and going back again in the afternoon – day in, day out.

Munching the Camera
We had a delightful encounter with a baby Hawksbill turtle. It wasn't afraid at all but continued to chew away on a sponge even though we hovered right next to it.

It took a fancy to my yellow underwater video casing as it spotted its own reflection in the glass. It munched the casing a couple of times before rising to the surface for a breath of fresh air.

Mostly Hard Corals
There are not many soft corals in the Caribbean – mostly brownish bush-like things. We did note quite a few hard corals, for instance staghorn and a great variety of brain corals, but nothing anywhere near the diversity of the Far East – let alone the Red Sea.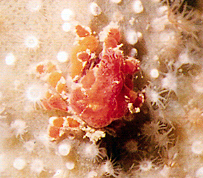 It is a colourful world, though, which is mainly due to sponges in all shapes and sizes. The large, purple tube sponge – or vase sponge – is typical in these waters.

How do we do this?
Initially we started the day in a true holiday mode. Got up, made some breakfast, discussed dive sites and went off. This meant that we had our dives before and after noon, and quite frankly… we found the dives just a tad boring (shame on us, I know).

The dive shop was very reluctant to point out anything of interest and seemed mainly interested in selling guided dives, so what to do? We tried a little bit of this and a little bit of that – and ended up diving very early morning, late afternoon and at night… and in between, of course.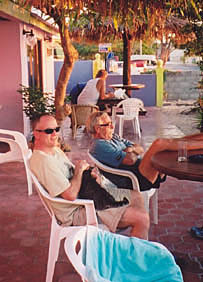 Go for Morning Dives
We had some terrific morning dives, where we hit the water at about 6 a.m. and spent almost two hours submerged.

We had ribbontail rays and eagle rays, we had some five different species of trevally on their morning hunt and saw how they drove a big school of boca together in a bait ball and started eating away. And a great barracuda jointed the feast.

The Dance of the Oval Squids
One of the dives ended in the shallows where we suddenly found ourselves in the company of seven small Atlantic oval squids. They hovered right in front of us in a straight line changing colours, patterns and positions at (almost) exactly the same time.

We were rather excited – in particular Bernie, whose gift for enthusiasm quickly rubbed off on the rest us.

At one point a snapper approached looking mischievously at the squids, so Bernie sputtered and cursed the snapper away waving wildly with his arms and legs. Top notch entertainment! Apparently the squids didn't mind but the snapper fled for dear life.