Rest assured, there's no shortage of food on Bonaire. They even produce their own drinking water so it's perfectly safe to drink from the tap. But all foods are imported as nothing of importance grows on the island and prices are at European levels.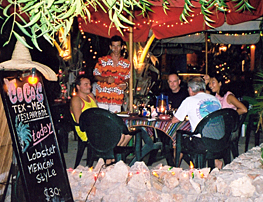 There is no end to the night life in the centre of Kralendijk – lots and lots of bars and discos and coffee shops. You got amble opportunity to shake that booty.

Self-served is well-served
We stayed at a studio and had to make our own meals or go out on the town. Also here especially Bernie came in handy. Bernie was fond of good food (still is) and knew a trick or two.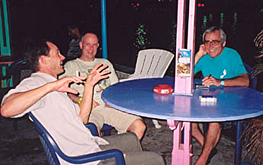 We had some really tasty meals at a Lebanese/Venezuelan restaurant on the outskirts of Kralendijk as well as at very, very local takeaway diner (the swordfish is highly recommended).

Whatever you want you can find a restaurant to cater for your taste. Just remember if you enter one of the American burger joints that everything is super-sized.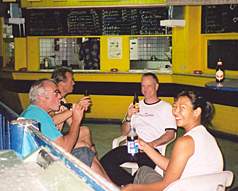 Our Official Holiday Beer
After some difficult testing we chose Amstel as our Official Holiday Beer – quite often enjoyed on the common terrace at the Dive Inn where we all stayed. And often supplemented by a tiny Jameson's or a G&T – and of course our fine free ranging four legged friends, the donkeys.



What a joy to be able to sit outside in just a t-shirt at midnight in the middle of October.