DDR had a much bigger transfer boat than Nabucco and although a heavy early morning fog had descended upon the Berau River forcing us to slow down considerably to avoid big floating tree trunks, the trip back to Tanjung Redeb on the mainland was about an hour shorter than when we came out to Nabucco Island.

After our wonderful but thoroughly exhausting experiences on the islands of Nabucco and Derawan we spent five or six days at the five-star Hotel Dusit in Balikpapan – the first 24 hours asleep.

A quick summary of the dive log revealed that we had totalled 31 dives at an average length of almost 60 minutes. This amounted to 1,830 minutes or 30.5 hours, and although our 12 dives at Derawan were fairly shallow with an average maximum depth of 18 metres our 19 dives at Nabucco averaged a maximum depth of 27 metres. No wonder we were exhausted.

There were no tourist attractions of any significance in Balikpapan. Basically, Kalimantan is all about coal and gold mines as well as oil and timber. But it is the region's largest city and fine as a starting point.

Our local contact confirmed that very few tourists did take time out in the area but we did ferret out that no more than 1½ hours' drive away on the road from Balikpapan to Samarinda (the regional capital) was an orang-utan reservation of some sorts.

Our contact wouldn't recommend it though as he had tried it and in return received complaints from guests because they did see any of these humans of the forest.

In the lobby of the Dusit we found a poster spelling out quite a few outings but nobody could enlighten us. I suppose that if you dig a little deeper something will come up.

Our best option for guaranteed action was through a company called Land & River Tours that arranged light trekking in the Sungai Wain National Park or a five-day jungle river cruise on the Mahakam River. Especially the latter sounded really interesting and also entailed meetings with the Dayak people.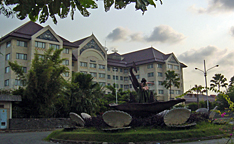 The drawback, if I may call it that, is that you'll have to arrange this either before or after your dive trip, and you can't use it as a diversion in between dives.

Unfortunately, before we managed to book anything, I had a severe case of stomach cramps. By way of elimination we concluded that it had to have been the draft beer from the night before. Ah well, but better to die in a five-star hotel than on a wooden canoe on a muddy river far out in the jungle…