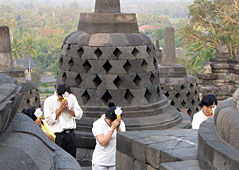 All that glitters
Some of the villages we passed through were decidedly Muslim but migrants from the island of Madura north of Surabaya just looooves all that glitters and put their happy mark on village life. We were told that the Maduras would happily spend their last rupiah on a tattoo or a golden earring instead of food for the family.

The last of our drive ended in hairpin bends and steep climbs 2,000 m asl at the Bromo Cottage 13 hours after leaving Jogjakarta. After a small meal we hit the sack to get as much sleep as possible before our next adventure.

Bright and early
Well, perhaps not so bright as early: Up at zero-three-hundred – temperature a measly 17

o

C but no winds. We were allocated a Jeep with a local driver and headed up to Pandujakan: A sunrise viewpoint on the rim of the enormous caldera of the Bromo-Tengger-Semeru National Park.
Suddenly the place was crammed with tourist from the entire area – all with the same purpose, and most of them better prepared for the ordeal than we were. It seemed that everybody but us had thick jackets, hats, gloves and scarves. But of course it was possible to rent jackets and blankets and buy tea and noodle soup and offerings for the volcanoes at stalls set up by locals.

With the sun slowly rising we got a magnificent view of the caldera, of the constant oozing of Mt. Bromo and of Mt. Mahameru (3,677 m asl) in the distance now and again coughing quite a decent puff of smoke into the atmosphere. This is indeed the land of fire – a great experience.

Horses galore
Afterwards we drove down to the bottom of the crater – down to the sand sea. Why we had to go in 4x4 Jeeps became quite clear: Crazy inclines everywhere though the narrow roads were paved with decent asphalt. Nothing grows here but there is a fine powdery layer of lava sand that easily swirls up. You could either walk the distance to the foot of Mt. Bromo or – like we and many others did – rent a horse.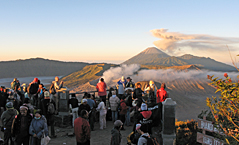 Mine was small, light and cute but Lene chose a bigger one for herself. The owner walked alongside holding the reigns. Apparently Lene's horse handler thought she looked confident enough so he gave her the reigns. Lene believed this meant that she was free to take off, and after a slow trot she quickly coerced her horse into a gallop. The owner kept up with them formidably but had to let go in the end. My horsie found the behind of another horse and together we slowly but surely found the foot of the volcano.

At the top of Mt. Bromo
254 steps with appropriately dispersed resting places had been made to facilitate the climb but the thin air at 2,400 m asl quickly made us gasp. When we finally reached the top we found that we could walk along the rim of the crater and look right down into the belly of the beast. Here big steam clouds constantly oozed out.
Although Mt. Mahameru (also known as Semeru) looked as though it lay just over the next top it was actually more than 15 km away which was a great relief as it is still one of the most active volcanoes on Java. But what a view.

On our way back across the sand sea Lene again took off in a gallop. For a brief shocking instance my horse started trotting but fortunately the owner could remote control his horse by whistling and smacking his lips. Great fun. Safely back at Bromo Cottage we had a hearty breakfast and soon left for Surabaya.