It started off so well...
This was supposed to be a regular dive liveaboard trip to the legendary dive sites of the Komodo National Park but apart from the fact that we did get picked up at the airport at Lebuan Bajo on Flores – after some waiting – this part of the trip didn't quite pan out as expected.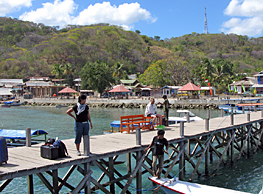 We spent almost an hour on the pier waiting for the dingy – with no shade inside, and when we finally got onboard there was no-one to greet us. Our dive guide turned out to be a Javanese Rastafarian called Sangut, a nice guy and a passionate diver with a good knowledge of the area and life below the surface. And with strong views on his home country that fuelled some nice evening talks.

Our ship, the M/S Felicia, was a so-called pinisi, which is a local boat with lots of space for everybody. Originally built as a merchant's vessel by the Bugis people north of Tana Toraja, it is a big heavy boat basically only meant to flow with the trade winds from island to island and back again six months later. Top speed was about two knots which meant that when we sometimes got caught in the frenzied currents of Komodo, we were hardly moving at all. But fortunately, both the crew and the other guests were very nice people, and that goes a long way.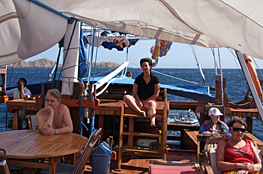 Check Dive
Our dive buddies were two Korean math professors and a German, two of whom were Open Water divers with not that many logged dives. We did our check dive at Sebayur Besar – a typical check dive site: Sandy bottom with coral pinnacles and not really that interesting but that didn't matter. It was just so nice to be in the water again.

We had a go at the small neighbouring island, Sebayur Kecil, on the night dive where we had the pleasure of a.o. an octopus, a Fine speckled moray and the biggest Spanish dancer ever. When we got back to the Felicia we discovered that we had a blind passenger onboard the dingy: A Two-banded sea snake! We had all put our hands right next to it when entering the dingy after the dive. Thank goodness they're so docile and non-aggressive.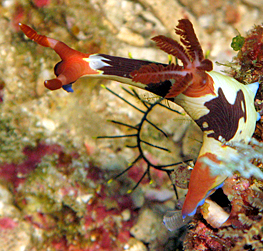 The Mother of Currents
After a very nice breakfast with pancakes and all we set out the next morning for the first dive of the day at Tatawa Island. Right before the dive we all sat in the dingy and looked in awe at the turbulent water surface. Were we really going to dive there? It looked more like a washing machine.

But in we went. We were treated to the finest of slopes with myriads of soft corals in a plenitude of colours, large schools of fusiliers, four hawksbills and some very large triggers. There must have been so much more to see at this site but the current was too strong to even hold on to anything. We flew like small jets along the slope and enjoyed every second.

At the end the current subsided and gave us time to nose about a bit. Sangut didn't reveal to us the name of the site until we were back in the dingy – with good reason, too. It was at Tatawa Island that five divers had disappear some months earlier only to be found 36 hours later on a small rock trying to fight off Komodo dragons and sucking starfish for fluids!

Our second dive was at Pengeh Kecil at slack tide. The quintessence of diving Indonesia: Beautiful walls and slopes with a diversity of life that seemed endless. At the end the tide started to turn, and we had to be on our toes as currents started flowing from what seemed like every direction.
Dragons at Large
No trip to this area without an encounter with the famous Komodo dragons. This is the largest living species of lizard, growing to an average length of 2 to 3 meters. The Komodo Dragons live naturally only on Rinca and Komodo and in some secluded bays on West Flores. To keep them alive buffalos, horses, wild hogs and deer are set out. Analyses of dragon saliva have shown as much as 57 different strains of bacteria growing in its mouth and all a dragon has to do is bite its prey. In time the prey will die from blood poisoning. Locally the dragon is also known as buaya darat meaning land crocodile, and it's actually capable of diving down to some 4-5 meters!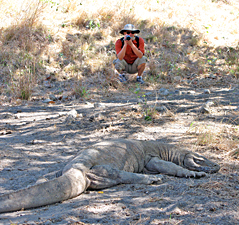 The chances of meeting one are bigger on Rinca than on Komodo as the landscape is far less passable on the latter. That being said you have very little chance of missing one. Many tour operators even offer a reward if you don't see a dragon on your visit, which went well in hand with our distinct impression that the rangers kept a couple of smaller ones by the ranger station by feeding them. Dragons guaranteed indeed.

Well-fed and Docile
Our ranger-led tour lasted about three hours in the scorching sun through a hilly, bone-dry and hostile environment. We came upon some buffalo carcasses where a couple of smaller dragons had finished eating. Taken into consideration that a dragon may eat up to 80 percent of its body weight in one meal it was no wonder that it seemed they could hardly lift their stomachs from the ground. Altogether we saw six or seven dragons and came quite close to some of them. Fortunately, when you know that all it takes is a scratch, they all seemed well-fed and not interested in second helpings.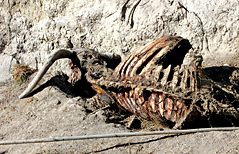 Flying Foxes at Sunset
Not far from the dragon ranger station at Loh Buaya on Rinca we cast anchor at a small island called Kalong to watch the sun go down and to prepare for delicious beach barbeque. As the sun came closer to the horizon things started to happen on the island. At first we saw three or four flying foxes – the largest bat in the world – leave their resting places and head for the feeding grounds on Rinca. Then came some more and soon the sky came alive with big bats flying just above our heads – all with the beautiful setting sun as a backdrop.

Unfortunately, soon after we were told that the engineer onboard the Felicia had been taken ill and we had to return to Lebuan Bajo at once.

Compensation and Nudis
Back in Lebuan Bajo we found ourselves with an extra day on our hands and nothing to do. So we talked Sangut into exploring some of the nearby rocky islands and made him promise that the dives ended only when we reached 50 bar. So we did two 90+ minute dives at Pempeh which left poor Sangut with blue lips and no circulation in his arms and legs. Visibility was about 6-10 meters and there was not much in the way of corals but lots of sponges, small sea cucumbers and a great variety in nudibranchs and other slugs. Great fun. One of the math professors, Mr. Song, accompanied us on the first dive but he gave up after one hour. He was out of air, and he hadn't seen anything at all.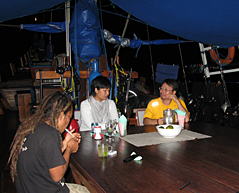 We didn't get the Komodo dive trip that we had looked so much forward to but we did catch a glimpse of why this place is on the want list of so many divers.