Lombok Escape
Throughout our journey we had encountered many different religious beliefs but it seemed that Lombok was the only place in which they actually interacted in official ceremonies.

Most of the inhabitants are of the Muslim Sasak persuasion, which is a special Lombok brand of Islam with a heavy touch of local heritage. Since most of the population originally came from especially Bali and Java, however, there's a strong Hindu society here as well.

H & M united
A for instance is Pura Lingsar from 1714 a bit outside Mataram. This is a temple combining Muslim Sasak and Hindu traditions, and here both parties meet every April just before the rainy season for branke katupat, i.e. to throw rice at each other in the name of fertility.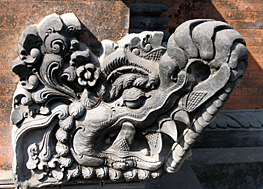 Another example is the Mayura Garden and Water Palace from ca. 1744 and part of the Royal Court of the now extinct Balinese Kingdom. The king was Hindu and the queen Muslim but they both stuck to their original beliefs after their marriage. So this is one place where you can see both Muslim and Hindu statues and bas-reliefs side by side.

Our headquarters the next couple of days was the secluded Senggigi Beach Resort on the tip of a narrow sandy cape with an excellent beach and some great snorkelling – lots of nudis, squids and blennies.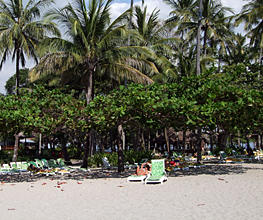 Off to the Gilis
The road from Senggigi to the harbour at Bangsal is brand new and goes through a beautiful, hilly landscape along the Lombok Strait. Partly because lots of estate has been sold off to private corporations for resort development, and partly because lots of people are lured into a trip to the Gili Islands on the West coast of Lombok. And we were no different – perhaps most of all as we had the notion of the Gilis being a backpacker's retreat.

The boat trip from Bangsal to the largest island, Gili Trawangan, took about 50 minutes. I suppose, we'll never know what the island was really like.

We took an immediate dislike to it: We found it too crowded. And the shops, b&b's and cafés along the sea side too shabby and worn down. We had a go at snorkelling. The current whisked us away over broken and dead hard corals and landed us several hundred metres further down the beach, then we walked back and did it again. But we couldn't really see the point.

Better to suit up
Our plan had been to spend the day hopping to Gili Trawangan, then to Gili Meno and finally to the smallest island, Gili Air, closest to the mainland. But we decided to skip Meno, go straight to Air and arrange some diving. After all, it was Lene's birthday.

We found Gili Air quite different from Trawangan: Nice, easy and laid back. We went to Dream Divers, signed up, suited up and went away on a banka with 12 other divers for a dip at Gili Slope/Gili Wall. Nice drift but not very many corals, a good deal of turtles, though, and a tiny cuttlefish that seemed almost tame. But it beats snorkelling any time.

Brats on the Beach
When we came back to Bangsal we were meet by some really annoying brats on the beach who tried at all costs to rinse our feet with freshwater despite our repeated refusals – and to get paid for doing it. One of them even tried to fake a good cry as we slammed the car door in their ugly little faces.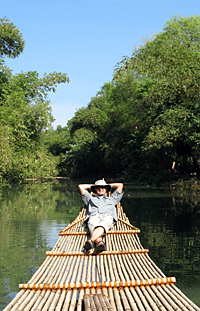 Down the
Meninting River
This is a most-do if you're in the neighbourhood. Go to the Sesela village and step aboard one of the local gondolas, a bamboo contraption mostly used as a cargo raft, sit back and relax and let the current take you gently down the Meninting River.

For a small tip the boats-men will serve fresh coconut while you're in for an exotic view into the life of everybody's backyard and local wildlife like birds and iguanas. It takes about an hour or so but it's time well spent.

Pottery and Weavers
On Lombok there are about four villages where everybody is involved in pottery some way or other. In the village of Banyumulek we met a lot of happy people – especially the children were very enthusiastic. We went from house to house to see the different kinds of pottery each one was making and ended at the site of the large common oven just as they were getting a fire going. Lots of smoke and laughter.
Sukarara is another specialized village, namely as weavers. Although it's yet another case of what would suit your home there's no denying that some of their stuff was really impressive.



A Peak into Old Sasak Tradition
A couple of villages on Lombok functions as open air museums with old Sasak houses and crafts being held alive by the people who live there. Your contribution is a donation of some 20,000 Rupiah in exchange for a guided tour.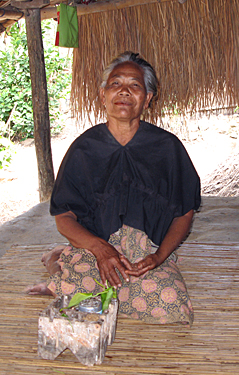 Their houses are very interesting though. Typically is has two rooms: One inside for the wife and one outside, which is actually only a lean-to, for the husband. They're only together when they are in the mood to make children.

There are no windows and the floor is made from cow dung and mud and raised above the ground to keep daddy from floating away in the rain. As soon as a baby boy is old enough he'll move outside to his father but the baby girl stays inside.

Where did all the Men go?
The local guide became a little unpleasant at the end of our visit. Just like the girl at the weaver's village, this one went on about how poor and hungry they all were and demanded that we bought loads of souvenirs as we could afford it.

True, many a man from the South of Lombok goes abroad for three to five years to save up for himself and his family. But just before he leaves, he marries and gets his wife pregnant. So the women are forced to make a living for themselves and their offspring.

In the Shadow of Mt. Rinjani
Life on Lombok is controlled in a way by the enormous volcano Mt. Rinjani in the North which at 3,726 m is the third tallest in Indonesia. On its slopes primary rain forest still grows though rice paddies do take up a large percentage.

Close to Mt. Rinjani clouds gather every day sending rain down its slopes, and here rice peasants harvest three times a year. In the central part of Lombok it's down to two times a year, and in the South they have to make do with only once a year.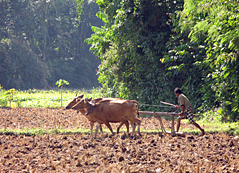 There is a huge difference between the North and the South. The landscape is notably dryer in the South, and due to the poorer precipitation the standard of living is lower – life is tougher in the South. It is also here one finds the more hard line Madrasah Islāmiyyah or traditional Islamic schools.

Relaxation at Kuta Beach
We spent a whole day at Pantai Kuta doing absolutely nothing. We had talked about at least doing some snorkelling but by the time we got around to it, the tide was out and there was practically no water left in the bay. At least we could see without our masks on that we hadn't missed out on anything.

Our resort was situated in a bay sheltered by a large barrier reef. When the water subsided we could see locals entering the shallows looking for crabs, clams and other edibles.

Local corporation
Most resorts have set up signs and markers to show the boundary of the hotel area – and no locals are allowed beyond these lines. The comfort and privacy of the guests are most important.

But there is also an appreciation of the locals' need to be involved and to benefit from tourists so at our hotel the locals had their own spot in the shade of some trees where they were allowed to put their goods and articles on display. And three times a week there was a night market by the restaurant where one could take a closer look at the wide choice of goods.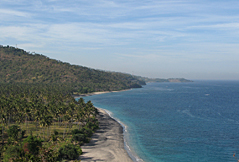 Bali's little Sister?
Lombok is not Bali at all – no matter what you read on the internet or in brochures. True, there are plans and designs to open up greater parts of Lombok to tourism, and Lombok will indeed be very different in ten years time. But there is a great difference in mentality, and Lombok is not at all geared up like Bali is. If you have the chance you should go for the sake of the relaxed atmosphere and the magnificent landscape that has such a great impact on the people who live there.