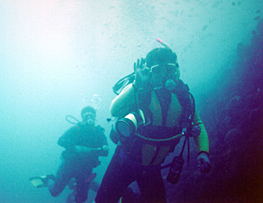 We knew that some of our dives might be a bit demanding. Most were wall dives where only a ledge at 35-50 m separated us from the bottom more than 200-1500 m further down. And most dives were drift dives.

Drift Away
Sometimes we drifted slowly along a wall at 35 m, went up to 20 m and the current would take us in the opposite direction. At 10 m we were yet again forced to turn around. But one or two fin kicks kept us in the same place with amble time to study yet another weird underwater creature.

At other times we covered considerable distances, in fact, even the dive boat had trouble finding us again.

Trust the Fish
You can often tell which way the current goes by looking at f.inst. small schooling fish as they usually have their heads turned into the current. But not always...