VWe had two very exciting trips to Pulau Bangka and the Lembeh Strait, respectively.

The island of Bangka lies at the northernmost tip of Sulawesi in waters with currents so confusing that it required our utmost attention not to be thrown against rocks and corals.

Underwater Garden of Eden
The dive site Sahaung consisted of large rocks and rock formations that made the current turn off in unpredictable directions. But never before had we seen so beautiful gardens of soft corals in all shapes and colours, and the site was virtually littered with different and colourful species of scorpionfish and filter feeders.

The water was fairly cold as the currents came straight from the depths of the Celebes Sea – a measly 27oC - brrrrrr.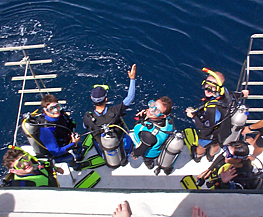 To the Muck Diving Capital
Lembeh Strait is situation on the east coast of the Sulawesi peninsular. Kim of Eco Divers had told us that if God felt – according to local folklore – that one of his underwater creations turned out too ugly he threw it in the Lembeh Strait. And if that wasn't enough there should be a very good chance to see f.inst. the pygmy seahorse, so off we went.

First over land from Tasik Ria south of Manado to Bitang and then north onboard one of the local narrow wooden boats that looked like it was just about to capsize any moment.

Finally, the Pygmy Seahorse
Our first dive was almost normal though the visibility wasn't more than 10 m. Benni, our guide, quickly found the fan coral where the pygmy seahorse usually hangs out. He pointed, we looked – and shook our heads. He pointed again, we looked again – and shook our heads.

Then like a magician he produced a magnifying glass from his BCD – and we all nodded. Not only was the pygmy seahorse in colour and structure the spitting image of its preferred fan coral, it was also no bigger than about 1 cm.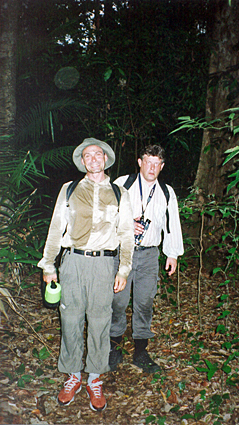 This Could be Hell
Like many other places Lembeh Strait was also full of nudibranchs in all the colours of the rainbow. But as the Story of Creation goes we must admit that there was something quite special – almost eerie – about this part of the strait. Even the corals and sponges on our first dive looked odd, horror-like.

Our second dive was simply surreal. We had crossed the strait to the mainland and jumped in the water as we finished suiting up (the boat wasn't big enough for us to suit up all at once).

When we first peeked into the blue it looked like a normal day in Danish waters: Sand, sand, sand… and about six to seven meters of visibility with lots of fluff in the water.

The Magic of Benni
But then Benni set to work. And we got to see sea urchins that looked like scarlet read neon signs trotting briskly along the bottom, fish with delta-shaped wings – also trotting along, lots of seahorses, scorpionfishes and frogfishes and stuff we didn't even manage to find in the books afterwards.

To this day our dives in Lembeh Strait are still the ones we talk the most about – after a total of 27. Highly recommended.