In March 2005 Dr. Martin Guard and his buddy Drew Sutton officially opened Eco2 in Mikindani as a Padi International Resort. Martin Guard has lived in the area for more than 10 years, is a marine biologist with four phds in a.o. Cephalopods and has 15 years of experience as a Padi Dive Instructor.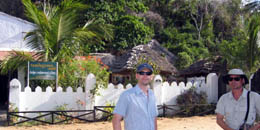 Apart from being a fully equipped dive center with training from Padi OWD to Divemaster and equipment rental Eco2 does marine research and development in Mikindani Bay and in the nearby Mnazi Bay-Ruvuma Estuary Marine Park. When we visited Martin was busy describing a new species of octopus.
Martin speaks fluent Kiswahili and is deeply involved in ensuring a sustainable development of the local community. For each dive a sum is donated to a community fund, which is councilled by locals, who then decide on f.inst. the purchase of new school books or uniforms or something completely different.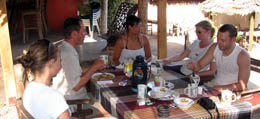 Eco2 also endorses locally crafted Makonde wood carvings. Half of the sales price goes to the artist and the other half to the community fund.
Ten Degrees South is situated next to the dive shop. Itís a cozy little place with five double rooms with kingsize beds, mosquito nets and fans. Toilets and showers are located at the end of the hallway, and the Michelin Guide would most likely not award any stars. But everything is kept nice and clean and itís a really friendly place with wild monkeys in the backyard.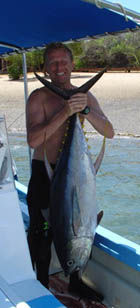 On the other hand, the food is so delicious that expats come from far and near to enjoy their dinner at Ten Degrees South. Even guests from the more luxurius and much more expensive The Old Boma pop in.

On our way back from the first day of diving we stopped by a fisherman in a small wooden canoo.

The fisherman had just reeled in a 40 kgs tuna which Martin bought on the spot. In the evening we had the most delicious, most tender and largest tuna steak ever Ė delicately marinated and served with mashed potatoes. Absolutely yummy.

Ten Degrees South is owned by Eco2 but managed by Babu Ali and his crew. Sometimes the English language gets the better of them but thereís definately no sparing of friendly smiles and willingness to help.