Itinerary
7/11 Copenhagen-Amsterdam-Dar es Salaam
9/11 Kendwa Rocks & Stone Town, Zanzibar
14/11 Mikindani, Mtwara Province
21/11 Dar es Salaam
22/11 Mikumi National Park, Morogoro Province
25/11 Bongoyo Island, Dar es Salaam
27/11 Dar es Salaam-Amsterdam-Copenhagen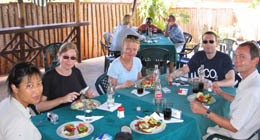 Price Level
Tanzania is expensive for tourists. The government hasn't really figured out that tourism can be a blessing if controlled correctly. High prices are mainly due to excessive taxation of businesses as well as establishment costs. In everyday life just make sure that you have agreed on a price beforehand and don't pay until you have received your articles or arrived at your destination.
Climate
Two seasons play an important part: The short (from mid October to mid December) and the long rainy season (from mid March to mid May). The short rainy season is supposed to be less predictable than the long one but apparently things have changed a lot. Ten years ago one could set one's clock to the arrival of the long rainy season but nowadays it even skips a year or two causing drought and famine.
Google Earth enter search:
10 16'51.14"S, 40 07'16.79"E puts you right on top of Eco2 Dive Center.
Eco2 ltd. & Ten Degrees South
Mitengo Street, Mikindani, Mtwara
www.eco2tz.com
E-mail: drew@eco2.com or martin@eco2.com (put "Eco2 Dive" in the subject header to avoid spam filter)

Danish School Project
Danish NGO formed to support the bright and poor children of Mikindani in terms of school education. It's closed now due to the corruption that still permeades Tanzania.

Scuba Do Dive Centre
Kendwa Rocks, Zanzibar
www.scuba-do-zanzibar.com
Email: do-scuba@scuba-do-zanzibar.com

White Sands Beach Hotel
Kendwa Rocks, Zanzibar
www.zanzibar-white-sands-hotel.com
E-mail: info@ZanzibarWhiteSandsHotel.com

Garden Lodge
Stone Town, Zanzibar
www.zanzibarexcursions.com
under Budget Hotels

Mikumi National Park
www.tanzaniaparks.com
The official web site of Tanzania National Parks

Makomo Safaris
Dar es Salaam
www.makomo.com
Email: makomo@cats-net.com